Celebrating More Than 31 Years of Service!
Sigma Epsilon Omega Chapter Was Chartered On January 20,1990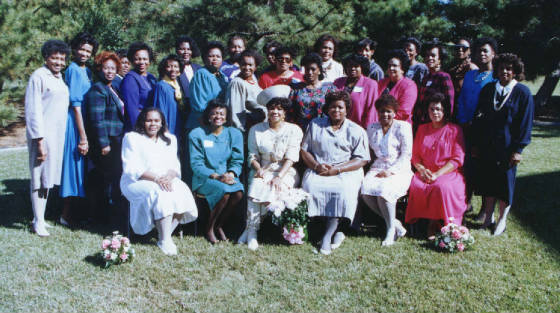 Seated left to right: Carolyn Jackson, Shirlyn Johnson-Granville, Frederica S. Wilson (South-Atlantic Regional Director), Venetta Taylor, Kathy Hill and Birdie Pogue
Standing left to right: Florence Mitchell, Vermell (McIntyre) Leslie, Juanita Cofer, Lori Hill, Joe Ann Denning, Patricia Lockhart, Janice Burnette, Felicia Meadows, Yolanda Hart, Trelley Williams, Tammy Dunn, Dorethea Scott, Valerie (Bowden) Hilton, Christine Porter, Tiena Fletcher, Lisa Smith, Faynetta Porter, Brenda Hopson, Sarah Nottingham, Jaki Scott, Gwendolyn Taylor and Mamie Johnson
For many years, the Alpha Kappa Alpha members in Warner Robins had often spoken of starting their own local chapter. Several of them were members of Gamma Pi Omega Chapter in Ft. Valley, GA and had been very active with this chapter for a number of years. After much networking in May and June of 1988, the first Interest Group pre-planning meeting was held. During the next meeting held on August 1, 1988, officers were elected, a name for the Interest Group, "World Changers on the Move" was selected and standing committees were adopted. At the close of this initial meeting, all of the ladies vowed to contact other members in the area while continuing to work with Mrs. Frederica S. Wilson, the 11th South-Atlantic Regional Director and Mrs. Jasmine Ellis, Cluster V Coordinator and President of Gamma Pi Omega Chapter. "World Changers on the Move" was extremely active in providing service projects for the community.

In 1989, the membership grew from nineteen members to twenty-four members and then to thirty-four members for chartering. After meeting with Mrs. Wilson in October, she enthusiastically agreed to grant the group a charter within the next few months. On January 20, 1990 in the McIntyre Room at the Warner Robins Recreation Center, "World Changers on the Move" was chartered as Sigma Epsilon Omega Chapter. · Through the years under the leadership of former presidents: Shirlyn Johnson-Granville, Kathy B. Hill, Joe Ann Denning, Carolyn Jackson, Karen Doctor-Gadsden, Renee Brown Reese, LaTanga Allen-Felder, Adrienne Ray and now Robertiena Fletcher, Sigma Epsilon Omega has continued the Alpha Kappa Alpha tradition of service to all mankind/the Middle Georgia community through its many programs and activities.
Sigma Epsilon Omega Chartering Officers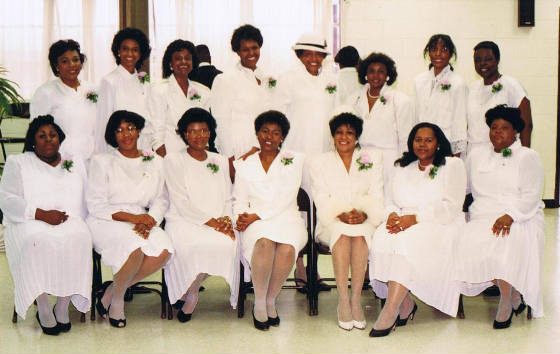 Pictured left to right: (seated) Lori Hill, Lisa Smith, Brenda Hopson, Kathy Hill, Frederica S. Wilson (South-Atlantic Regional Director), Carolyn Jackson and Felicia Meadows (standing) Joe Ann Denning, Vermell (McIntyre) Leslie, Shirlyn Johnson-Granville, Jean Draper, Florence Mitchell, Mamie Johnson, Jaki Scott and Virgie Harris
Former Sigma Epsilon Omega Chapter Presidents
Shirlyn Johnson-Granville
1990 - 1991
Kathy B. Hill
1992 - 1993
Joe Ann Denning
1994 - 1995
Carolyn Jackson
1996 – 1997
Karen Doctor-Gadsden
1998 – 1999
Carolyn Jackson
2000 – 2005
Renee Brown Reese
2006 – 2007
Carolyn Jackson
2008 - 2009
LaTanga Allen - Felder
2010 - 2011
Carolyn Jackson
2012 - 2015
Adrienne Ray
2016 - 2017
Robertiena Fletcher

2018 - 2021